What Is the Best Shower Holder? The GoShelf System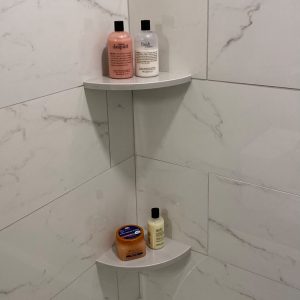 No matter how beautiful your shower is, it won't be complete without functional storage space for all of your essential products. Installing a GoShelf system will give you boundless options for organizing your hair and body care must-haves. Today, we'll highlight some of the key characteristics of GoShelf corner shower shelves, which come together to make this system the absolute best shower holder on the market.
What Is the Best Shower Holder? The GoShelf System
If you've been less than impressed by plastic or metal shower caddies/baskets, you're definitely not alone – many people report feeling frustrated by these options and their lack of functionality or their lower-than-promised reliability.
Luckily, the GoShelf system provides an all-around optimal solution that fully delivers in the areas of convenience, beauty, stability and ease of use. Here's how:
A DIYer's dream, a GoShelf goes up in four easy steps, in just a few hours. Everything you need to complete the installation comes included in the GoShelf kit, and you can find detailed written instructions and a how-to video on our website.
Supported by in-wall anchoring plates, the GoShelf has no visible means of support, lending it a sleek look. But fear not – it will never fall down, as it's tested to hold upwards of 200 pounds!
Incredibly versatile and capable of meeting any and all shower storage needs, the GoShelf is the best shower holder for shampoo & conditioner, soap, body wash, razors… even your loofah when you add one of our cleverly designed loofah hooks!
This is just the start of what makes the GoShelf so great. These shelves are also easy to clean and come in many different stone varieties to suit different shower designs and palettes.
See for Yourself Why Our Shelves Are Top Rated
If you're ready to see the remarkable GoShelf system in action, check out our YouTube channel! You can also order samples of your favorite shelf styles on our website, or go ahead and purchase your GoShelf kit if you feel certain that you've found your perfect match. Contact us anytime for assistance or any questions!