Best Shampoo Bottle Holder for Shower: The GoShelf System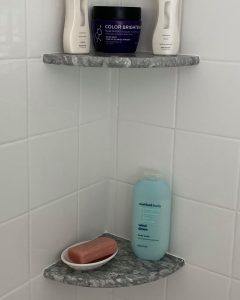 Whether your shower is used by multiple members of your household or you have it all to yourself, the importance of an effective shower organization system is not to be underestimated. If you're seeking the best soap, body wash, conditioner and shampoo bottle holder for shower designs of all sorts, look no further than GoShelf. Let's get to know this system and its perks.
Best Shampoo Bottle Holder for Shower: The GoShelf System
The GoShelf system was created to provide a simple way to add beautiful, functional shelving to your shower without removing or damaging the existing wall tile. Made with versatility in mind, it can also be installed at the end of a new tile installation – before or after grouting.
Here are a few fast facts on the GoShelf and what makes it so great for any DIY home improvement enthusiast:
A GoShelf goes up in just four easy steps. In no more than a few hours, it'll be ready to use as a shampoo bottle holder for shower enhancement, or any other purpose you desire!
Speaking of multiple uses, the GoShelf isn't just for holding your shower products – it can also serve as a footrest for leg shaving when placed low on the wall. This is because it's tested to hold well over 100 pounds, so long as it is properly installed.
Each GoShelf kit comes with one stone corner shelf in the style of your choosing, along with the glue, wall anchoring plates, razor blades and instructions you'll need to install it.
Whether you purchase a single GoShelf or several shelves to create a multi-level storage system, you can rest assured that installation will be a breeze. Plus, your shelves will last for years to come, with no worries about rusting or shifting around.
Get Started By Browsing Our Selection
Eager to create your perfect custom shower holder solution for all your daily bath & body care products? Head over to our online store to see our 14 fantastic design options to complement any shower color palette and style, from traditional to modern! You can also find full instructions and a helpful how-to video on our website.