DIY Shower Inset Shelf: Easy Installation with GoShelf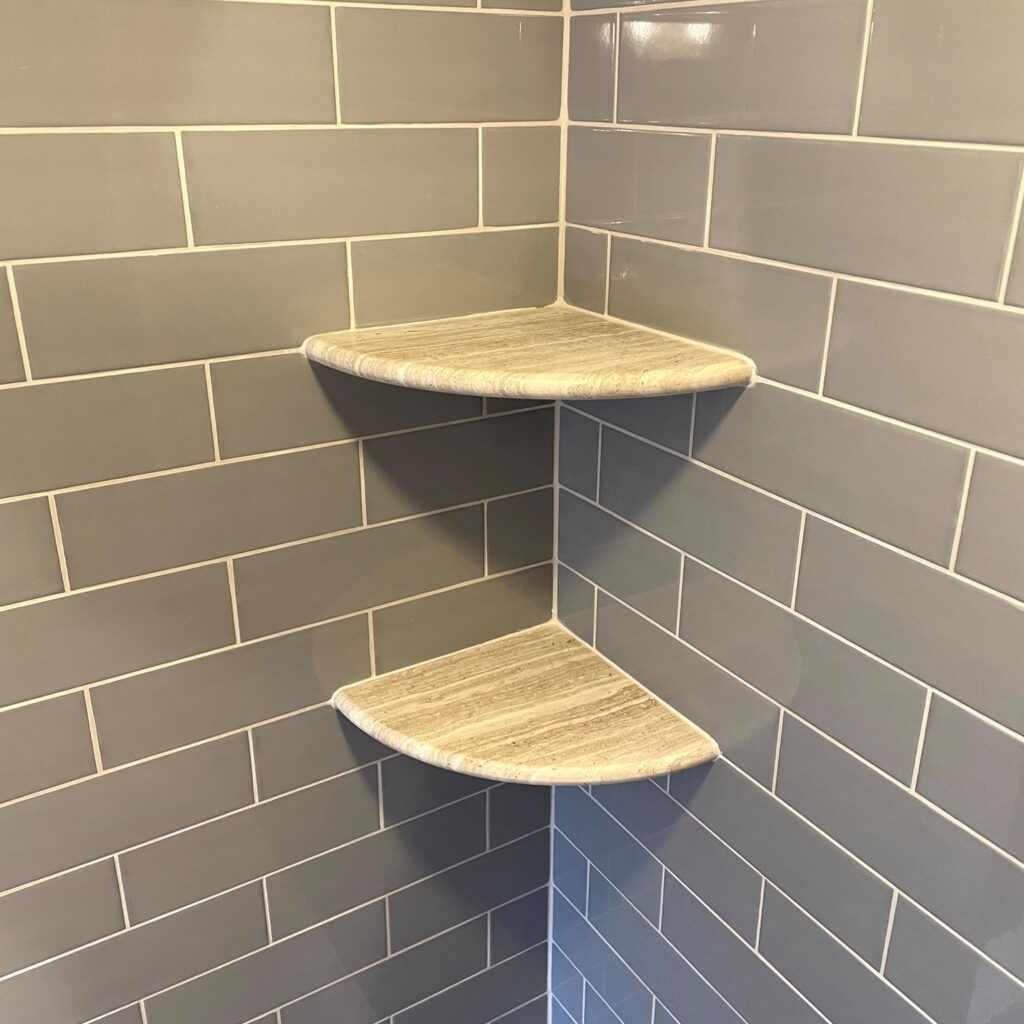 Ever find yourself wondering if there's a way to add storage to your already tiled shower, but without using one of those tacky, unfinished looking metal or plastic caddies? Tile professional Ian Stefenack set out to create this exact solution back in 2013. He drew on his 20+ years of experience to invent the GoShelf, a shower inset shelf that won't damage any tile since it gets anchored into the grout! Read on for more details on how this successful design functions.
DIY Shower Inset Shelf: Easy Installation with GoShelf
Because removing or drilling into wall tile itself can be messy and lead to headaches like cracked tile or a compromised waterproof seal, this is not recommended. As a workaround, the inventor of GoShelf introduced a customizable shelving system that gets installed at the grout line in between tiles, thus leaving them untouched.
To facilitate this installation, each GoShelf kit includes:
A ¾"-thick shelf, available in your choice of 7", 8" or 9" width
Four wall mounting plates
Adhesive to keep the shelf sturdy
Detailed, step-by-step directions for installing your shelf
Owing to this smart installation style, a GoShelf will appear to be floating in the corner of your choice. You won't be able to tell where the support is coming from; still, you'll be able to rest assured that it's not going anywhere, as it's tested to support 200+ pounds!
In the words of Barry, who purchased a GoShelf system in Durango Beige, "[It] does what it said it would do and does it well."
Explore GoShelf Options
If you're ready to take the proven path to a more organized and professional looking shower, then it's time to get a GoShelf! Whether a single shower inset shelf suits your storage needs or you'll need a few, there are virtually endless different layout options since a GoShelf can go in at any horizontal grout line.
Not to mention, we have a plentiful selection of shelf styles to choose from, so you can match or contrast your shower walls beautifully. Head to our website to browse all the possibilities, and send us a message if you have any questions!