Get a Beautiful In-Shower Caddy from GoShelf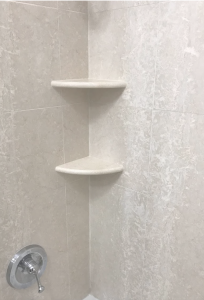 Eager to simultaneously beautify your shower and create more storage without a major renovation project? Adding a GoShelf — the world's most thoughtfully designed in shower caddy that you can install yourself — is just the solution you've been searching for! Let's get into the specifics of the process.
Get a Beautiful In-Shower Caddy from GoShelf
Whether your shower was done years ago or more recently, it's a major effort and mess to remove the tile. This fact of life was a major motivator for GoShelf inventor Ian Stefenack to come up with a shower shelf design that could be added at any point after the fact.
Here's the super simple method he innovated for putting in a GoShelf:
Measure & mark as directed in our instructions, then remove a small amount of grout at the horizontal grout line in the corner where you want your GoShelf to hang.
Insert the mounting plates into the four grout holes you created and check that they go halfway into the wall. Take them out, add adhesive one by one and reinsert them.
Add glue to the GoShelf channel and press it firmly so it fits into the corner.
Allow 1-3 hours for it to dry before using it, and grout/caulk it for a finished, moistureproof result.
After his successful firsthand experience installing a set of our shelves in his recently upgraded shower, Mark B. shared the following tidbit with us:
"Wow, what a brilliant idea! I was looking for a way to install two shelves in my marble renovated bathroom that I forgot to do when I was renovating it several years ago. Construction is not my trade, but I consider myself an experienced do-it-yourselfer.

No one would ever think that the shelves were added after the fact! I am very impressed with everything involved with GoShelf and their videos. Just remember, measure twice (I usually do that 3-4 times to make sure) before cutting and go slow and carefully, and you will end up with a beautiful completion."
Efficient, Attractive Shelving Is Just a Few Clicks Away!
If adding a GoShelf in shower caddy is now at the top of your to-do list, head over to our website and check out our selection. You can request samples, or go ahead and order your full GoShelf kit if you find something you're in love with instantly. Either way, we'll be here if you have any questions about your best shelf style or the installation process.