DIY Shower Insert Soap Holder: The GoShelf System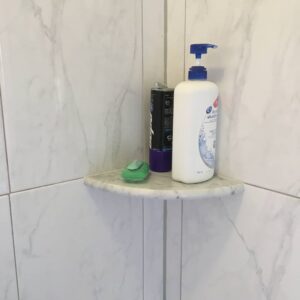 Are you low on functional storage space in your shower? Maybe you've tried products claiming to offer a fix, only to be disappointed when they don't hold up. If you've had this frustrating, all-too-common experience, it's time you heard about GoShelf. Whether you're looking for a small-but-mighty shower insert soap holder shelf or a complete storage solution that can hold all your bath and body products, the GoShelf system can be tailored to meet your unique needs and goals. Keep reading to learn how it works!
DIY Shower Insert Soap Holder: The GoShelf System
If you're in the market for beautiful, long-lasting shower shelving that you can install yourself, it's easy to design and execute exactly what you're envisioning with GoShelf. To start, simply answer the following questions:
How many shelves do I need? – Maybe you only need a single GoShelf to serve as a shower insert soap holder. Or, perhaps you want to install a few shelves to ensure there's plenty of room to stow your soap, shampoo and conditioner, razor and more. When planning your ideal configuration, keep in mind that a GoShelf can be installed at any horizontal grout line, in any corner of your tiled shower!
Which GoShelf style best suits my shower? – We have quite a few options to pick from (14 to be precise!), so take a look at our website and choose the best match for your bathroom aesthetic. Regardless of which style you select, the beautiful stone will keep its gleam for years to come with minimal maintenance.
Once you've decided on your preferred GoShelf style and layout, you're ready to place your order! Your GoShelf will ship to you promptly, with everything you need to complete the DIY installation included in the kit. Once you get started, the GoShelf installation process should only take a few hours!
Experience the Ultimate Shower Storage Solution for Yourself
If you're tired of not having a convenient, practical place to store soap and other daily necessities in your shower, it's time to resolve your frustrations with a GoShelf system! If you'd like, you can even add a loofah holder to keep your loofah fresh and accessible. See the full range of customization options and order your GoShelf kit (or shelf samples) on our website today!