GoShelf Experts Explain the Cost of Shower Niche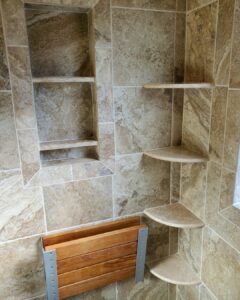 Incorporating a shower niche is a great way to add smart, professional looking storage to a new shower. So, it's no wonder that many homeowners express curiosity about the cost of shower niche purchase/installation. As shower storage specialists, the pros at GoShelf know all about shower niches, including their perks and pitfalls. Today, we're here to give you a full look at how a shower niche gets installed, what it typically costs and why our GoShelf corner shelves may be a better solution for an already tiled shower.
GoShelf Experts Explain the Cost of Shower Niche
If you're exploring sleek ways to add more storage to your shower, a shower niche may come to mind. As for the cost of shower niche building, the price will vary depending on:
The tile type/design intricacy
The size of the niche
Other factors unique to your project
Typical pricing ranges from around $75 to $300 and up, including the labor required for proper installation and waterproofing. If it fits your budget, a niche can be a viable add-on feature for a new shower install. However, if your shower has already been tiled and you're not keen on doing a major renovation, you may wish to consider GoShelf stone corner shelves instead of a niche.
The beauty of these floating shelves is they can be installed in a finished shower by simply removing a bit of grout, meaning there's no need to worry about damaging the tile or compromising the integrity of the walls/waterproofing. A DIY GoShelf system can even be added to complement an existing shower niche – our customer Chester put in a set of four matching Cappuccino shelves in the corner beside his niche (pictured above) to triple his storage space.
Enter GoShelf: An Easy, Cost-Effective Way to Enhance Your Shower
If you're dreaming of completing your shower with functional, reliable extra storage space, look no further than GoShelf. Not only is this solution beautiful, logical and versatile; it'll also save you time and money since you can install it yourself in just a few hours. Check out our recent post to learn all about the simple process, and head over to our website to start browsing shelf style options!