Install the Perfect Shower Cubby Shelf! Stylish Options from GoShelf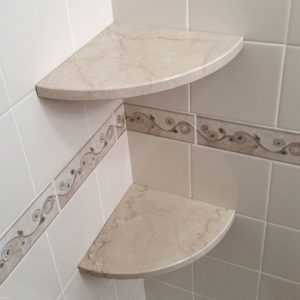 In case you don't already know: A shower niche is a recessed area in a shower wall which functions as a handy-dandy spot for storing your must-have bath and body products. Many savvy homeowners choose to add a shower niche when building a new shower. But what if you're looking to equip an existing shower with a simple and effective storage solution, without having to redo the structure of the shower? A shower cubby shelf from GoShelf is a wonderful alternative offering all the same benefits as a shower niche, plus the added advantage of easy installation in any shower!
Install the Perfect Shower Cubby Shelf! Stylish Options from GoShelf
Some shower storage systems require a major renovation project. Not GoShelf, though! To install one of these sleek shower shelves, there's no need to remove tile or otherwise significantly alter your shower. The straightforward GoShelf installation process can be completed in just a few minutes using a few basic tools, making it well within reach for DIY beginners.
Simply use the handheld grout saw included with the GoShelf kit to remove grout in the spots where the four wall anchoring plates will go. Then, glue the wall anchoring plates and your GoShelf into place using the adhesive that comes with the kit. (You can find more detailed instructions on how to install a GoShelf shower cubby shelf over on our website!)
Now that we've explained how easy it is to put up a GoShelf, let's move on to the next reason why homeowners love this revolutionary shower cubby shelf: aesthetics. No matter what your shower looks like, we've got a GoShelf that will be a marvelous match! Choose from 15 different shelf styles, including:
Sand
Dark Gray
Wooden White
Durango Beige
Light Gray
Absolute Black
Light Travertine
Granite
Sparkle White
And More!
Ready to Enhance Your Shower? Order Your Custom GoShelf System Today!
A stunning and sturdy shower cubby shelf from GoShelf can make a world of difference in your day-to-day life, whether you choose to add a single shelf or several. By optimizing your shower storage, the GoShelf system will save you both time and hassle. To get started on building your own stylish in shower organizer, visit our website now!