Shower Corner Shelf After Tile: Professional & DIY-Friendly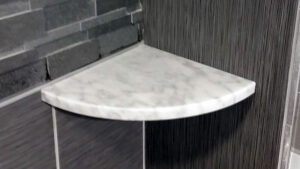 Among shower storage systems, corner shelving stands out as the most professional looking, high-performing solution. So, why do some homeowners overlook this option? Many worry that installing shelving will require too much work, including removal of shower tile. Little do these folks know, there's a way to add a sturdy shower corner shelf after tile installation is already complete, without risking damage to your shower! Let's explore how the GoShelf system makes this possible.
Shower Corner Shelf After Tile: Professional & DIY-Friendly
As compared to wire shower caddies and suction-on toiletry baskets, GoShelf is miles ahead in terms of both elegance and functionality. Adding to the appeal of this solution, it can be added at any stage of your shower installation or renovation project.
What makes the GoShelf approach such a huge time and effort saver, for professionals and DIY home improvers alike? Here are a few major advantages of installing your shower corner shelf after tile is already set on your shower walls:
Convenience – As any contractor can attest to, it's highly inconvenient to have to work around shelves when you're grouting a tub/shower. So, it's a total game changer to be able to put in shower storage as a finishing touch – thanks to GoShelf!
Zero Damage – When you remove the tiles or make large cuts in your shower walls, it can compromise their integrity and set the stage for mildew, leaks or both. Luckily, the innovative GoShelf installation process allows you to leave the tiled walls intact, and only requires removal of a small amount of grout to set the included anchoring plates. Thus, these concerns don't apply!
Versatility – Equally well suited to both bathroom upgrades & new installs, the GoShelf offers a solution for virtually every shower & project. Install these beautiful ceramic shelves at any elevation, wherever extra storage is desired! Even if your shower wall tiles are on a pattern (such as mosaic or herringbone), you can count on the GoShelf to mesh with your design.
Want a more in-depth look at how easily a GoShelf is incorporated with existing tiled shower walls? Check out our detailed installation guide and accompanying how-to video!
Experience the Magic of GoShelf for Yourself
Can't wait to customize & enhance your shower with a permanent, easy-to-install storage solution? Browse our wide selection of GoShelf styles & request samples of the ones you love most today!