Ceramic Corner Shelves for Shower: Beautiful, Professional, DIY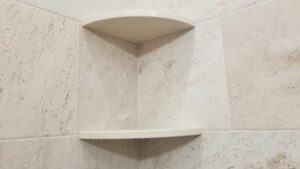 What makes an outstanding shower storage system? Sturdiness, dependability, style and ample space to fit one's essential toiletries are all must-haves. While most products fall short in at least one of these categories, the GoShelf gets top marks in all of them! Let's venture into the benefits of choosing these ceramic corner shelves for shower stalls of all sizes and styles.
Ceramic Corner Shelves for Shower: Beautiful, Professional, DIY
Stunning & Strong – With 14 gorgeous styles available, the GoShelf is sure to look phenomenal in just about any shower. Owing to its innovative wall-anchored design, the shelf will appear to "float" in your chosen corner. While the support system may be out of sight, the strength of these shelves is not to be underestimated. They're proven to hold up to 200 lbs, so you can load yours up with as many shower products as you can fit!
Professional & Reliable – Why waste money on a shower caddy that will inevitably rust and shift around when you could create your own seamless, long-lasting storage system with GoShelf? Elegant and easily maintained, these shower shelves will stand the test of time and never go out of style.
Perfectly DIY-able – The GoShelf is a favored choice among contractors – but you definitely don't need to be a pro to install these ceramic corner shelves for shower storage! Simply follow our detailed instructions and use the tools included in the kit to add beautiful shower shelving in just a few hours – no tile damage involved.
At the intersection of unmatched durability and timeless beauty, the GoShelf is the ultimate fix for any shower storage dilemma!
Save Time, Money & Stress with GoShelf
Excited to enhance your shower with a storage system that will serve you well for the long haul? Browse our catalog to discover the GoShelf which best complements your shower aesthetics! If you'd like to make sure it's a perfect match before buying, it's easy to request samples on our website. Order today to find out why GoShelf gets rave reviews from professionals and DIYers alike!