Count on GoShelf for the Perfect Bathtub Corner Shelf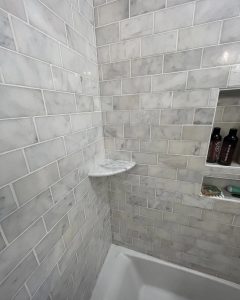 In a bathtub-shower combination, you'll want to have storage space optimized for both options. This setting calls for a bathtub corner shelf that can be placed anywhere on the wall – criteria which the GoShelf fully fulfills! Let's learn more about the magic of GoShelf and what makes it the best solution on the market for showers and tubs alike.
Count on GoShelf for the Perfect Bathtub Corner Shelf
When comparing the different options available to hold your bath and body products, look for simplicity, versatility and function. The GoShelf is the trifecta here, for all of the following reasons:
These stone corner shelves can go in at any horizontal grout line, allowing you to install them lower or higher on the wall – or both! Add one wherever you most want and need shelving. A GoShelf can even serve double duty by offering a spot to prop your legs while shaving and a place to stash toiletries while bathing.
The DIY installation process can be tackled in just a few hours, so adding more than one shelf is totally doable. Create an entire caddy system that gives you convenient space to stow products within easy reach, during both showers and baths.
Along with being totally customizable and reliable, the GoShelf also happens to be very attractive. Select a shelf style which complements or accents your shower bath for an upgrade that's aesthetically pleasing along with convenience enhancing.
If you're eager to enjoy all of these benefits, the process to get there is super streamlined! Simply browse our shelf offerings on our website and order samples of your top picks so you can compare them with your bathroom design – or, go ahead and order your GoShelf kit if you're confident you've found the best match.
DIY Tub & Shower Shelving? Go for It with GoShelf
Once you've decided on the right GoShelf size, variety and number of shelves needed to satisfy your bathroom storage needs, finish the job by following the simple four-step installation instructions found on our website. Get started today – your personalized bathtub corner shelf system awaits!