Building an In Shower Shelf Unit Is Fast and Easy with GoShelf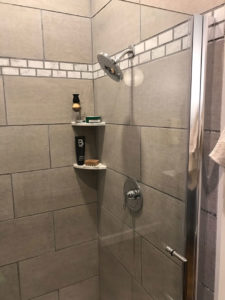 The shower is an area that can easily get crowded with products, especially if yours is stocked with soaps, shampoos and conditioners for the whole family. To solve this problem, many opt for some sort of shower organizer, such as a shower caddy or an in shower shelf unit.
These solutions are designed to help alleviate the issue of limited shower space so there's no hassling with taking things in and out each time you shower. But which option is the most ideal? Let's explore why an in shower shelf unit from GoShelf is far superior to a regular old shower caddy, plus take a look at how to install one of these amazing shelves.
Building an In Shower Shelf Unit Is Fast and Easy with GoShelf
When it comes to increasing your shower storage, a GoShelf in shower shelf unit is the best tool for the job. Here are a few reasons why:
It's sturdy – Capable of holding up to 200 pounds, the GoShelf won't budge – unlike flimsy shower caddies, which tend to slide around.
It's stylish – Shower caddies are susceptible to rust; plus, they're just not the most elegant looking. A GoShelf, on the other hand, is a stunning addition to any shower.
It's simple to install – Putting in a GoShelf requires just a few minutes and a few tools, all of which are included with the kit.
As you can see, the GoShelf exceeds other shower storage solutions in all categories.
The GoShelf Installation Process: A 4-Step How-To
As previously mentioned, it's insanely easy to install a GoShelf. In fact, it can be done in just four steps! Here's the essence of the process:
Grab a pencil and a tape measure and use them to mark where you'll need to remove the grout to install the four GoShelf wall anchoring plates.
Remove the grout using an oscillating power tool or the hand grout saw included in your kit.
Once you've removed enough grout that the anchoring plates stick halfway out of the wall, add adhesive to each one and insert them into the spaces you've created.
Add glue to the GoShelf and slide it onto the plates. Wipe away any excess glue and allow 2-3 hours for your new shelf to dry completely.
For full instructions on hanging your GoShelf, check out our recent blog post devoted to this topic. Then, head over to our gallery to find the perfect in shower shelf unit for your needs and style!