Need a Shampoo Holder for Tiled Shower? GoShelf Is Quick and Easy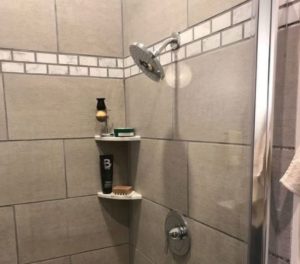 Shower storage presents a dilemma for many individuals, couples and families. If a tiled shower does not come with ample built-in space for everyone's toiletries, the next logical step is to seek out a shower storage solution. Many people gravitate towards shower caddies because their installation does not require removal of existing shower tiles. But what if there was a shampoo holder for tiled shower applications that didn't damage the shower and provided more stability and storage options than a conventional shower caddy? Allow us to introduce GoShelf, the innovative shower shelf that offers all of the above – plus fast, hassle-free installation!
Installing a GoShelf Shampoo Holder for Tiled Shower: 4 Simple Steps
Adding a shelf to your already tiled shower might sound daunting, but stick with us! The creator of GoShelf was sure to make the installation process as uncomplicated as possible. In fact, adding one to your shower requires just a few steps and a couple of basic tools.
In order to hang your GoShelf, you will need to make four small holes in the grout at the corner and elevation where you would like it to float. To begin, measure and mark these spots.
Now, use the hand-held grout saw that comes with the GoShelf kit to carefully create the four holes. (Ideally, the wall anchors should stick out about halfway.)
Apply a small amount of adhesive to each of the four anchoring plates and insert them into the holes you made, one at a time.
Finally, add some glue to the shelf channel and affix it to the wall using the anchors. Wipe away any excess glue, and wait 1-3 hours before placing shampoo or other bath products on your new shelf.
For a video tutorial and full instructions that go into more detail on how to put up a GoShelf shampoo holder for tiled shower settings, click over to our website.
Browse Our Selection of Fashionable & Functional Corner Shower Shelves
Ready to find the GoShelf product that will work best for your shower style and storage needs? Go check out our wide range of shelf sizes and colors to find the ideal option for your shower! From dark gray to light tan to white marble, we have a shelf for every shower scheme. We can't wait to see which one you choose!