Corner Soap Dish for Shower: Why Go with GoShelf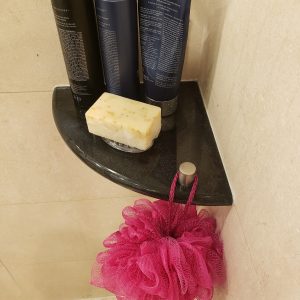 While it may seem like no biggie, not having a good place to stow your soap in the shower can actually get very annoying as time goes on. If you've lived without functional storage space in your shower, then you may be seeking the best corner soap dish for shower currently on the market. At GoShelf, we set out to create just this, and we think you'll be excited to hear about what we came up with.
Corner Soap Dish for Shower: Why Go with GoShelf
Looking at what was out there, we identified several flaws in common shower storage products – rusty caddies, stick-on baskets that slid around, soap dishes that didn't allow for drainage and shelving that required a major bathroom renovation, just to name a few. So, we created the GoShelf to solve all of the above. Here are some of its key features:
Can be added on at any point by simply removing a small amount of grout, inserting anchoring plates and gluing the shelf in place – no tile removal needed! With just four simple steps and all supplies included, this is a totally DIYable project.
Absolutely won't budge thanks to our innovative installation system. These shelves are proven to support 200+ lbs.
Angled slightly downwards so water slides off and doesn't sit around. Say goodbye to worrying about rust and mildew! Simply give your GoShelf a wipedown with a microfiber cloth to keep it gleaming.
Can be installed in pairs, trios or even quadruples to provide as much shower storage space as you need.
On top of all these perks, the GoShelf comes in a wide selection of colors and styles, so you can find a professional-approved corner soap dish for shower that looks like it was tailor-made for your bathroom.
Shop for Your Perfect GoShelf Online
If you're eager to add a smart permanent shelving solution to hold soap, shampoo and all your other shower essentials, look no further than GoShelf. On our website, you can compare all the different shelf varieties, plus request samples or place your order for a GoShelf kit. Head over there now to embark on your journey to optimal shower storage!