Find the Perfect Marble Shelf for Your Shower Niche – GoShelf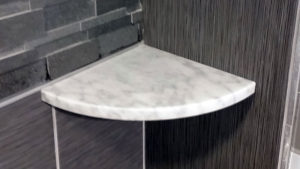 Marble is a timeless, elegant material that looks lovely on bathroom walls, sinks and floors. It also works well as an accent material in the shower – you might consider using it for the backsplash or for in-shower shelving. If you love the classy look of this natural stone, why not install a marble shelf for shower niches? Doing so is unbelievably easy and cost effective with a GoShelf shower shelf!
Marble Shelf for Shower Niche Installation: Hanging a GoShelf
A shower niche offers built-in storage for all of your essential bath and body products. But without shelving, even the largest shower niches get filled up fast. To ensure you have enough space to store everything, add a GoShelf to your niche by following these four simple steps:
Mark the places where you will need to remove the grout to insert the four anchoring plates into the wall. Then, use the hand-held grout saw included in the GoShelf kit to create the holes.
Now, add a small amount of adhesive to each anchoring plate and insert them into the wall, one by one.
Next, put glue on the channel of the GoShelf and fasten it to the wall, using the wall anchoring plates as your guide.
Finish the job by wiping away any excess glue and sealing the shelf with caulk or grout. Within 1-3 hours, the adhesive will be dry, and you will have a sturdy shelf that's ready for use!
For in-depth instructions and a helpful video tutorial on how to hang your GoShelf, head over to our website.
Select a Stylish & Functional GoShelf for Your Shower Niche
Love the idea of a marble shelf made for shower niches? It's time to browse the GoShelf website and pick out your favorite styles. From Carrara White to Cappuccino, we offer a huge range of stone shelf colors. We also have several sizes available for those in search of customized shelving.
Hesitant to purchase without seeing the color in person? You can be sure you've found the best match for your shower by requesting samples! We look forward to hearing how the GoShelf simplifies daily life for your family.