Install Your Own One Shelf Shower Caddy: The GoShelf System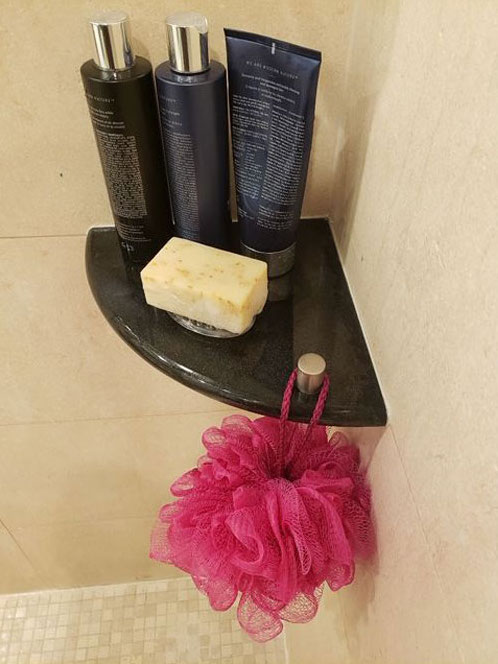 In a compact shower where space is limited, a corner storage shelf can make a world of difference. If you've been searching for the easiest way to install a one shelf shower caddy, you've come to the right place! GoShelf ceramic shelves offer the ideal space-saving storage solution – plus they're a breeze to install. Keep reading to learn more about how this simple DIY addition can upgrade your shower!
Install Your Own One Shelf Shower Caddy: The GoShelf System
Gone are the days of needing to settle for a shower caddy that slides around, gets rusty or easily becomes disorganized. The GoShelf solves all of these common complaints, all in a finished product that will leave visitors in awe that you did it yourself! Here are a few key things to know about installing a one shelf shower caddy using the revolutionary GoShelf system:
A GoShelf can be added at any horizontal grout line in your shower. The first step in the installation process is deciding where you'd like your corner shelf to "float." Maybe you'll put it at arm level for easy access to soap and shampoo, or perhaps you'll install it lower on the wall so it can double as a foot rest for shaving.
Some shower shelving products require you to do the messy, potentially wall-damaging task of taking off tile – but not GoShelf! You'll only have to remove a small amount of grout to insert the four wall anchoring plates. We'll provide the tools you need to do so, along with detailed instructions to guide you. Should you have questions, you can contact us at any time!
Once your GoShelf is installed and you've allowed a few hours for the glue to dry, you can count on it to hold all of your essential shower products – beautifully and sturdily. While these floating corner shelves have no visible means of support for the most polished look, we've put them to the test and confirmed that they can hold upwards of 200 pounds. Pretty amazing, right?
Personalize Your GoShelf | Select Your Favorite Style & Size
Ready to find the ideal GoShelf to complement your bathroom design and satisfy your storage needs? Head over to our website and choose from the 14 styles and 3 sizes we offer! To be positive you've found the best match for your shower's color palette, you can request samples right on our website. Once you're sure you've got a winner, you'll be ready to order your GoShelf kit and complete this DIY bathroom improvement project at your convenience!