Easy Wall-Mounted Corner Shower Foot Rest: The GoShelf System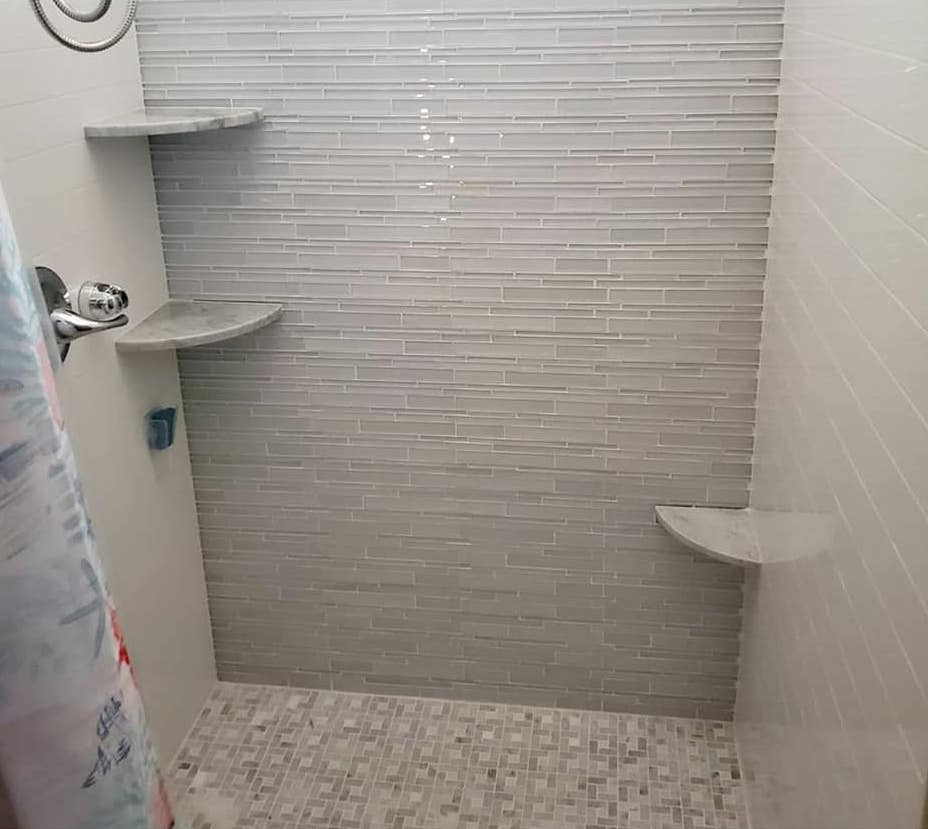 Without a secure spot to rest your foot, shaving in the shower can be a hassle – and even downright dangerous. Luckily, installing a GoShelf corner shower foot rest can save you the struggle, plus prevent slips and falls. Let's dive deeper into the benefits of placing one of these convenient shelves at leg level in your shower.
Easy Wall-Mounted Corner Shower Foot Rest: The GoShelf System
Sturdiness you can count on – For the ultimate finished look, the GoShelf has no visible means of support – but don't let this fool you into thinking it's not 100% reliable! We've put the GoShelf to the test and confirmed that this wall-mounted system can easily hold over 200 pounds without budging. In other words, there's no need to think twice about putting your weight on this corner shower foot rest while shaving!
Endless configuration opportunities – The possible uses for GoShelf span far beyond a shaving ledge. These stone bathroom shelves also offer the ideal place to stash your shampoo, conditioner, soap, shaving accessories and anything else you keep in your shower! Many of our customers opt to build their own DIY corner shower caddy complete with a GoShelf shaving pedestal and storage shelves above.
Simple, quick installation – Adding a GoShelf to an already tiled shower is a very straightforward project, thanks to our innovative installation method. Simply follow the in-depth instructions and video tutorial on our website to successfully complete the job on your own in only a few hours!
As we hope this overview shows, it's easy to create a shower that's safe, sleek, organized and stylish with the help of GoShelf corner shelving.
Start Designing Your Personalized GoShelf System Today!
Whether your shower could benefit from a standalone foot rest, more storage space or both of the above, GoShelf provides the ideal solution to make it happen! Click over to our website now to browse our wide selection of shelf colors and select the best size for your purposes. You can request samples to make sure it's a match, or order your kit right away if you're confident you've found the perfect style!