Don't Glue! Install An Easy In-Wall Shower Shelf Instead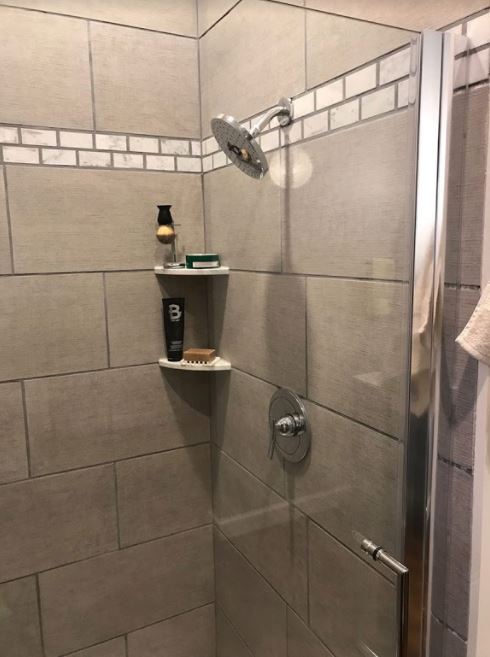 With so many options on the market, it can be tough to decide which DIY shelving is right for you. Some shelving systems suggest that gluing a shelf directly onto your shower wall is a satisfactory installation method. In reality, gluing a shelf can be time intensive and messy. Worst of all, because a glued shelf lacks structural support, your DIY in-wall shower shelf may have a short shelf life. That's why we designed GoShelf, which is easy to install, sturdy, and stylish.
Why Glue Isn't Enough
Installing a stone in-wall shower shelf onto your tile wall isn't a job for glue alone because there isn't an adhesive strong enough to hold up a shelf without also using supports. In addition to being ineffective, it's tough to apply adhesive onto such a small area without making a mess. But it isn't until after the installation is complete that a glued shelf really presents its biggest drawback: you never really know just how much it can hold. What's the point of having a shelf if you're scared to use it?
There's a Better Way
You can gain extra storage and style in your shower with the GoShelf in-wall shower shelf. GoShelf is a stone corner shower shelf that's designed to be installed on a wall that has already been tiled. As a simple four-step process, installing GoShelf is a perfect DIY project. Here's how it works:
First, you'll remove existing grout with a hand-held grout saw. (Don't worry, you won't need any special equipment, the saw is included in your kit.)
Then, you'll add a small amount of glue to your anchoring plates and insert them into the wall.
Next, add glue to the channels of your GoShelf and secure the shelf by sliding it onto the anchoring plates.
The last step is to let the glue dry and then seal the shelf with either grout or caulk.
The end result is a sturdy stone in-wall shower shelf that you'll love using for years to come.
Order your GoShelf today!