Looking for An In Shower Standing Shelf? The GoShelf System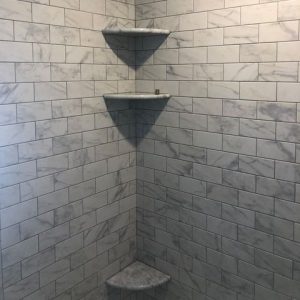 Whether your shower is compact or spacious, one thing is for sure: You need functional storage space to keep your daily care products accessible and uncluttered. Maybe you've already tried a shower caddy or rack, only to be left frustrated by the inefficiency, instability or other issues like rust. The solution to solve it all is an in shower standing shelf system from GoShelf. Keep reading to learn how our customer-preferred shower shelves work.
Looking for An In Shower Standing Shelf? The GoShelf System
If you've been disappointed by the shortcomings of other shower storage products, here's why you'll adore these shelves:
They're super sturdy, but have no visible means of support – Gone are the days of having to choose between function and aesthetics – GoShelf has both covered! These floating corner shelves are beautiful and sleek, yet ultra reliable thanks to their wall-anchored design. They're proven to hold well over 100 pounds!
They're versatile – You can install a GoShelf at any horizontal grout line, in any corner of your shower. This means these shelves can be used for a variety of purposes, from soap, bottle and loofah holding to leg shaving.
They're easy to maintain – Unlike metal caddies, your GoShelf will never rust since it's made of stone. The shelves are designed with a slight slope to divert water, so you won't have to worry about mildew either. To maintain your shelf's shine, all you'll need to do is wipe it with a microfiber cloth from time to time.
Don't just take our word for all of this! For extra assurance that GoShelf is the epitome of effective, easy-to-install shower storage, check out this honest review from a satisfied customer named Crystal:
"It took us about two hours from start to finish, including prep and assembling all items needed (not including dry time).

We installed three shelves: One low as a footrest for leg shaving and two high for products, with one hanger for our exfoliating/soap mesh loofahs.

Good match for our grey marble design tile (the shelves are a bit whiter and shinier; however, it's not very noticeable unless you are really scrutinizing!). Thank you."
Find Your Favorite GoShelf Style
Eager to experience the magic of a GoShelf in shower standing shelf for yourself? Head over to our website and pick the style that best matches your shower – we have over a dozen to choose from, with samples available!