Top-Rated Bathroom Shower Shelves: The GoShelf System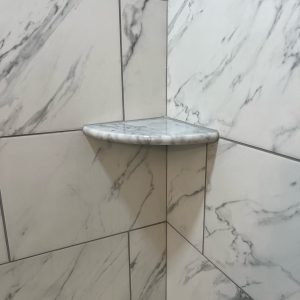 Looking for bathroom shower shelves that won't let you down? Your search is over! Welcome to GoShelf – a highly customizable way to create your perfect DIY shelving system that's beautiful, professional looking and functional. Today, we'll share a few testimonials which showcase what makes GoShelf a top-of-the-line product to organize any shower.
Top-Rated Bathroom Shower Shelves: The GoShelf System
For a bit of background info, our shelves are made of stone and can be installed in any corner, at any horizontal grout line. To see how easy it is, check out these DIY GoShelf installation success stories:
"I love doing projects in my home. I have a niche in my shower but needed more storage space. I thought it was impossible that it would look good with what is on the market; then, I found GoShelf. Easy installation, color matches my tile and it looks like it's floating. Try this system – you will be glad you did. Beautiful." -Colette T.

"I recently purchased and installed your 9-inch corner shelf. As a DIYer, I researched an easy solution that would look great without difficult tile cuts. Eventually I came across GoShelf. Tiled and grouted my entire shower, then installed your shelf along the grout joint. So easy to install, looks fantastic and matches my shower tile perfectly. Thanks!" -Sarah

"I purchased two 8" shelves for a bathroom remodel/refurbish in the bathtub area and placed one on each side of the back wall. They went in just as the installation instructions and demo videos said: EASY. I used a bit too much glue, but I just kept looking back and cleaned as I saw the drips. Eventually I had to use the included razor blade, and it cleaned right up on my flat tile. They look fantastic! Now, I'm back for two more for a shower. I highly recommend GoShelf!! BTW – I'm not a contractor/pro, just a DIY homeowner – so if I can do it, so can you!" -Rich B.
As these glowing reviews illustrate, the GoShelf system is the real deal in terms of appearance and ease of installation. You can also count on these bathroom shower shelves to stay sturdy and in place – assurance that the average shower rack/caddy fails to provide.
Find the Best GoShelf to Complement Your Bathroom
If you're eager to enhance your shower with extraordinary shelving, it's time to browse the GoShelf selection! Choose from 14 modern designs and three sizes, and feel free to order samples or contact us for advice.