GoShelf: An Easy Built In Soap Dish for Shower Corners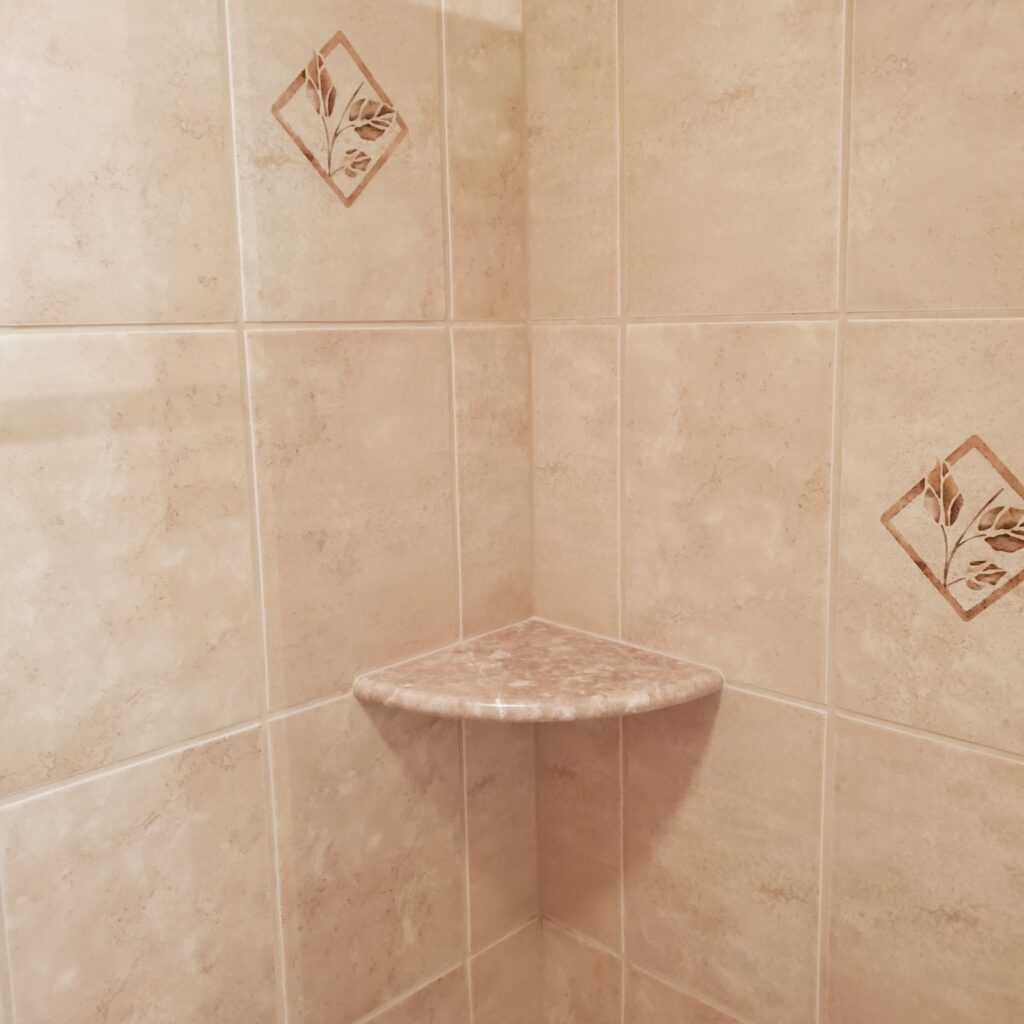 Looking for a way to add a built in soap dish for shower that doesn't involve a complicated and messy renovation project? Your search is over now that you're here and about to discover the GoShelf system! Capable of holding much more than just soap — from shampoo to razors to loofahs —, this handy corner shelf gets mounted into the grout for maximum simplicity and convenience. Let's learn how this happens in four straightforward steps.
GoShelf: An Easy Built In Soap Dish for Shower Corners
Improving your shower storage situation with GoShelf is as easy as this:
Decide where you'd like your GoShelf to float, then carefully measure and mark the four areas where you'll remove a small amount of grout to install the wall anchoring plates.
Proceed to create the channels in the grout using the tool of your choice — we recommend an oscillating power tool with a 1/16" grout removal blade or a handheld grout saw.
One by one, wet each of the four anchoring plates and apply adhesive to each side, inserting them into the holes you made so they stick out about halfway. Then, do the same with the GoShelf channel and slide it into place.
Regrout or caulk around the shelf to shield against moisture intrusion, removing any excess glue while you do so.
Unsure whether you can handle this task yourself? DIY newbie David's review should provide just the reassurance you need!:
"I'm not a handyman or very skilled at home improvement. But, I was able to put these shelves in our shower with the accompanying instructions with no problem. Excellent customer service after the sale. They quickly answered all my email questions and gave extra advice on the install.

My wife and daughter love the look! The instructions describe using the included grout saw or an angle grinder to cut into the existing tile grout, but I was able to do it with my Dremel 4000 tool with a right-angle attachment and tile cutter blade. Very happy with this product!"
Get Ready to Adore Your Shower Even More
If you're looking to add the finishing touch of a built in soap dish for shower, GoShelf is the ultimate solution. Head over to our website now to find the shelf style that best meshes with your shower design!