How to Install Floating Shelves Over Tile: The GoShelf System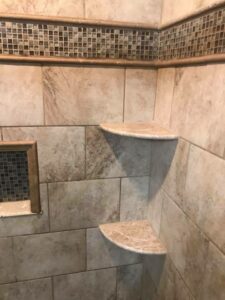 These days, self care is more important than ever. And for many, the ultimate self-care routine includes pampering with a range of rejuvenating skin & body care products. If you prefer to have your full selection of scrubs, serums and soaks on display & within easy reach, floating shelves are a must-have to keep everything uncluttered. Today, we'll walk you through how to install floating shelves over tile shower walls – no hassle involved! – using the GoShelf system.
How to Install Floating Shelves Over Tile: The GoShelf System
Shower caddies are known to be flimsy and unreliable. Meanwhile, many bathroom shelf products require a complicated mounting process that includes messy tile removal. Then, there's the GoShelf. Designed to provide headache-free installation and a permanent shower storage solution, this system works like a charm. Here's the gist of how to install floating shelves over tile with this revolutionary product:
Use a tape measure and pencil to measure & mark the four spots where you'll remove a small amount of grout to insert the GoShelf anchoring plates
Create the holes using the handheld grout saw that comes in the GoShelf kit
Apply adhesive to each anchoring plate and insert them, one by one, into the holes (they should protrude about halfway)
Add glue to the GoShelf channel, line it up with the anchoring plates and carefully slide it into place; wipe away any excess adhesive and wait 1-2 hours before using the shelf (to ensure the glue has dried completely)
Does your shower product collection call for lots of storage space? There's no limit to how many GoShelf ceramic corner shelves you can adorn your shower with! Simply repeat these four steps for each shelf you install, until you've achieved your ideal storage configuration.
What Do the Pros Have to Say About GoShelf?
Need a little extra proof that the GoShelf system offers the absolute best way to add floating shelves to your shower? Check out this review from tile expert Jake S.:
"When I tiled my bathroom, I thought the wall niche would be enough space for everything. I was wrong. I bought the ugly corner caddy, which lasted a few months before it broke (and it always looked horrible). So I came across these guys, and I can honestly say these are AWESOME! I'm a contractor, and now that I tested these shelves on my own home, I will be selling these on every tile job I do because they are simple, strong, look great and shipped in 3 days. The whole process took 4 hours! I've always installed shelves during the tile process and can tell you: these are the way to go!"
Approved by both pros & DIY weekend warriors, the GoShelf system is the ultimate fix for any shower storage crisis. To learn more and see the large selection of shelf styles available, visit our website today!