A Shower Caddy That Doesn't Fall: The GoShelf System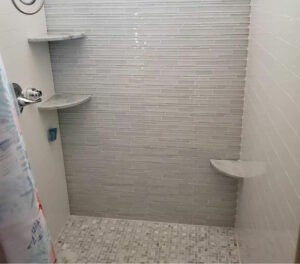 When on a quest for more shower storage space, many homeowners try a self-adhesive corner shelf or a hanging caddy – only to be left frustrated as the flaws in these products come to light. If you're eager to acquire a shower caddy that doesn't fall down, collect rust or otherwise disappoint, allow us to introduce the GoShelf system. Highly dependable, attractive and functional, these DIY after-tile stone corner shelves will save you time, money and hassle. Read on to learn more about how this solution offers the optimal method for adding extra storage to any size shower!
A Shower Caddy That Doesn't Fall: The GoShelf System
Here are just a few reasons why the GoShelf system outshines all other shower storage options:
It's sturdy & versatile – The GoShelf is proven to hold over 200 pounds (to see for yourself, check out our video where we put its strength to the test!). So, there's absolutely no need to worry about it getting overloaded. You can fill your shelves with shampoos, scrubs, soaps and other shower staples to your heart's desire! If you find you need additional space as your product collection grows, it's simple to add another GoShelf later on.
It's installed in just four steps – Simplicity was at the heart of the mission when designing the GoShelf. The straightforward installation process allows virtually anyone to create their ideal shower shelving layout in mere minutes! Plus, it can be completed at any stage – before or after tile is installed. To learn more about how to install floating shelves over tile with this system, check out our how-to article or our full step-by-step instructions.
It's trustworthy & professional looking – While GoShelf installation is a totally DIY-able job, it produces results so incredible that even pro contractors use this system! No visible means of support combined with the highest level of sturdiness makes for a reliable, polished looking finished product.
Select Your Favorite GoShelf Today!
The ultimate choice for those seeking a shower caddy that doesn't fall, the GoShelf has changed the bathroom storage game forever. Ready to explore the range of shelf styles available and treat yourself to the GoShelf that best complements your bathroom? Click over to our online store to start shopping, and feel free to reach out to us with any questions!