Ceramic Corner Soap Dish for Tile Shower: The GoShelf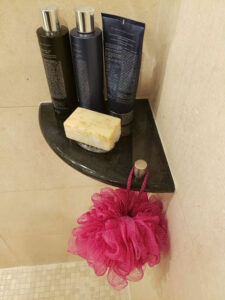 An in-shower soap dish provides a convenient spot to store your soap and other essential body care products. But, in practically no time, the average metal or plastic soap dish can get slimy, mildewy or even rusty. If you're tired of continually scrubbing & replacing your soap dish, it's time to upgrade to our durable, easy-to-maintain ceramic corner soap dish for tile shower settings. A stylish corner shelf built to hold way more than just soap, the GoShelf is crafted from stone – meaning it's rustproof, mildew resistant and simple to wipe clean as needed!
Ceramic Corner Soap Dish for Tile Shower: Customizing Your GoShelf
As functional as it is lovely to look at, the GoShelf makes the ideal ceramic corner soap dish for tile shower walls. Here's how to personalize your shelf to suit your unique bathroom aesthetic & storage needs:
Select a style – With 14 varieties available, there's a GoShelf for every bathroom design!
Choose your shelf size – The standard GoShelf is 9", but custom shelves can be purchased in 7" or 8" if a more compact storage solution is desired.
Install in a few hours – Once your GoShelf kit arrives, follow our detailed instructions to easily mount the shelf in your shower – onto grouted or non-grouted tiled walls.
Add the finishing touches! – To complete your shower storage system, consider adding our handy-dandy loofah holder (available in Chrome, Black or Brushed Nickel). You may also wish to place a silicone soap holder atop of your GoShelf, to keep your bar of soap perfectly in place & minimize messes.
A Five-Star Review for the GoShelf System
Over the years, the GoShelf has received endless praise from both professionals & DIY home improvers. Here's one of those shining testimonials, left for us by Mark & Melanie from Georgia:
"Just wanted to let you know how happy we are with the shelves and how easy they were to install. These were placed in an already tiled shower. The process was smooth. Your patient assistance and customer service were wonderful."
Experience the Ultimate Shower Storage Solution for Yourself!
Ready to see what all the rave reviews are about? Visit the GoShelf online shop today to browse our wide range of shelf styles and order samples of your favorites!