Affordable & Easy Bathroom Updates: The GoShelf System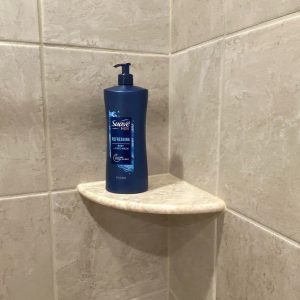 Is improving your bathroom still on your 2022 to-do list? When it comes to easy bathroom updates you can make yourself for just a few bucks, GoShelf is the top option! These simple-to-install stone shelves can help you organize your shower or any other corner of your bathroom with long-lasting success. Read on to learn how to install a GoShelf for fantastic results.
Affordable & Easy Bathroom Updates: The GoShelf System
If your shower space or bathroom in general has been feeling cramped and disorderly, putting in a GoShelf system can help turn things around. Starting at just $59.95, GoShelf is a budget-friendly, built-to-last solution that makes a big impact in the way of providing functional, aesthetically pleasing storage space.
To add a GoShelf to your bathroom, all it takes is following this simple process:
Locate the GoShelf style that best matches your bathroom on our website. We have 16 different shelf varieties to choose from! You can request samples of your top three selections, or go ahead and order your favorite.
Decide where to install your shelf or shelves. The great thing about GoShelf is that it can float at any horizontal grout line between wall tiles, in any corner. It's up to you to determine where your shelf or set of shelves will serve you best!
Complete the DIY installation. Once you've settled on your ideal GoShelf placement, it's time to unpack your kit and get going! You'll find everything you need to install your GoShelf system like a pro, including step-by-step instructions.
To optimize your bathroom storage quickly and effectively, there's no better system out there than GoShelf. Once you've finished the simple installation, you'll be set up to enjoy your stunning new shelving for many years to come.
Upgrade Your Shower or Bathroom Today!
If you've been searching for cost-effective and easy bathroom updates you can accomplish in a single morning or afternoon, look no further than GoShelf. To browse our selection of luxurious shelf styles, read the full installation guide and place your order, click over to our online store now! We're committed to offering the best customer service, so don't hesitate to reach out if you have any questions or need assistance.