Smart In Shower Storage Solutions: The GoShelf System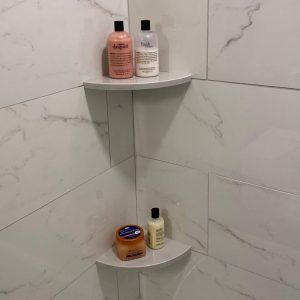 Without a doubt, having a beautiful shower makes your day-to-day life more enjoyable. But no matter how stunning, a shower without storage space isn't of much practical use! If you're in search of dependable in shower storage solutions for an already tiled shower, the GoShelf system delivers. Let's talk about how.
Smart In Shower Storage Solutions: The GoShelf System
If your shower wasn't designed with built-in storage, you might try caddies that go over the shower head or other products in an effort to avoid an involved bathroom renovation project. While these after-the-fact designs can work in a pinch, they're typically not made to withstand the test of time. 
Fortunately, GoShelf has emerged to remedy the issues with other in shower storage solutions. This affordable system provides a way to add professional looking stone shelving that won't rust or shift around, but without taking off any wall tile. How can this be? Here are a few fast facts:
A GoShelf can be installed at any horizontal grout line, in between the tiles, so it won't interfere with your shower's appearance or integrity.
Strong and steady, the GoShelf is tested to hold over 200 pounds! In other words, you won't have to worry about its capacity to store all your daily body and hair care essentials.
Because it goes in at the corner, a GoShelf stays out of the way and maximizes your shower space. You won't have to worry about hitting your head or running into it.
For more insight into the perks of GoShelf, check out this testimonial from our repeat customer, Andrew:
"GoShelf is great. I share pics and testimonials with all my neighbors and friends. The ease of installation and how strong and secure they are just add to the beautiful stone on display in our showers. Customer service is outstanding!!"
Get Started On Enhancing Your Shower
Ready to make your shower more organized, finished looking and even safer? The GoShelf can help you accomplish all three! To learn more about the DIY installation process and compare the range of different styles we offer, head over to our website now.