The Corner Tile Shelf Perfect for Tile Contractors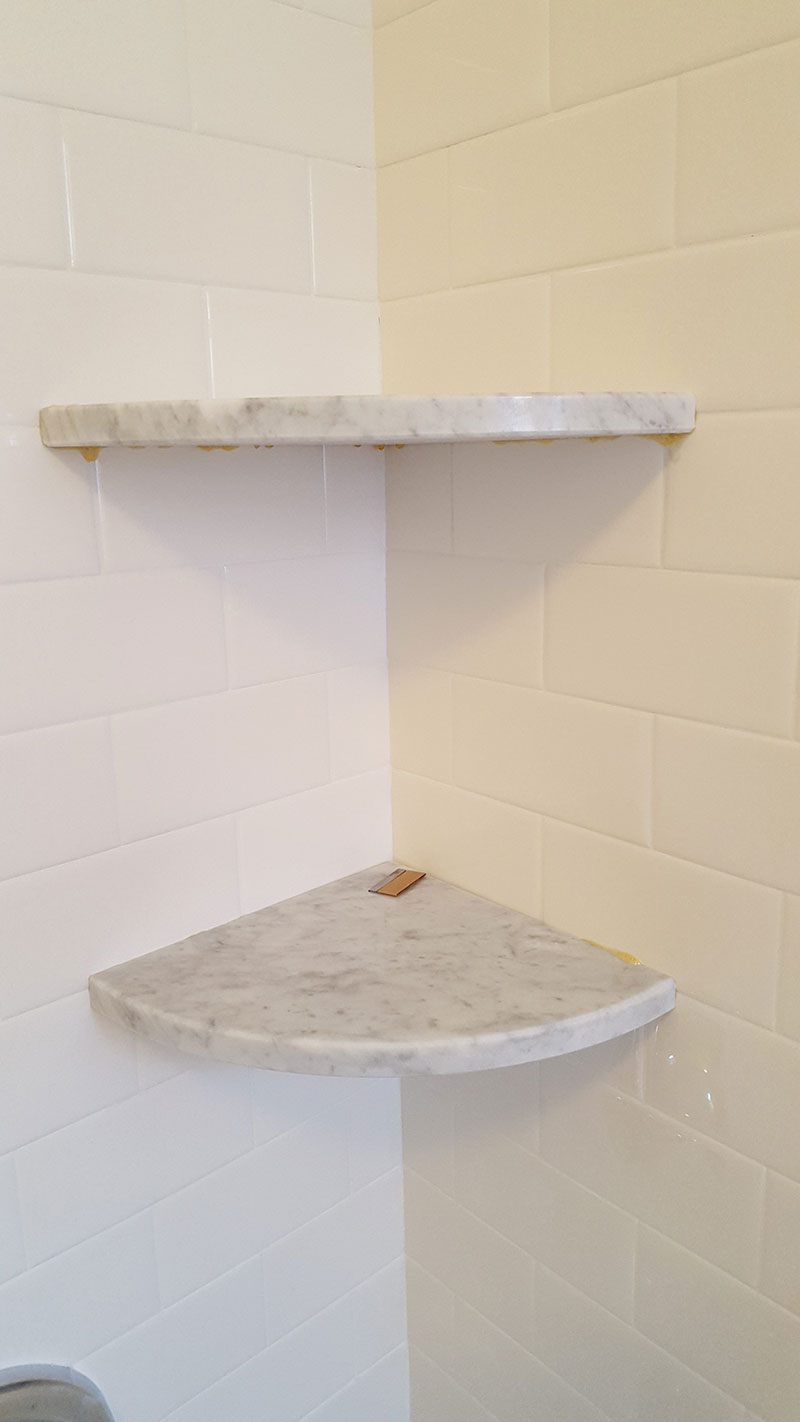 While running his full-service contracting business for the last 20 years, Ian Stefeneck has installed a lot of corner tile shower shelves. For each corner tile shelf installation, his team had to cut into the wall slowly, taking care not to damage the cement board or break surrounding tiles. Installing these shelves added extra time to each job and as any contractor can attest, the more time spent on a job, the less profitable that job becomes. Ian knew there had to be a better way; that's why he invented the GoShelf.
A Corner Tile Shelf That's Easy to Install
The GoShelf is a corner tile shelf system that saves contractors time and even allows Do-It-Yourselfers the chance to install their own high-quality shower shelving. The GoShelf is made with premium materials and comes with the tools you need and easy instructions. The GoShelf can be installed in just four simple steps:
Remove existing grout with a hand-held grout saw (included in your kit)
Insert and glue the anchoring plates
Add glue to the channels of your GoShelf and secure the shelf by sliding it onto the anchoring plates
Allow the glue to dry, then seal your shelf with grout or caulk

 
Once you've allowed your corner tile shelf to dry, you'll have a sturdy shelf that looks like it's always been there!
What Contractors Are Saying About GoShelf
"I'm a tile contractor out of Delaware and every once in a while, I get a call from a customer that would like to add shelves to an existing tiled wall. Now if you ever done this before you know that it's not an easy task! For a few good reasons – You need to cut the tiles then carefully remove a good portion of them, making it very easy to break the tiles if you're not careful. You also ruin the cement boards integrity by cutting into it and pulling/yanking on the tiles to get them off and in most cases, you create a hole or gap that go all the way through to the back of the wall making it susceptible to leaks in the future. Also, how much time it takes when you do it this way! The GoShelf system really takes the headaches out of this type of project. You simply remove a small amount of grout, add the mounting plates, install the corner tile shelf, and then grout/caulk it in. It's that simple! I would never think of doing this type of project again without the GoShelf system!" – Luis T., Tile Contractor
"This system is great! As tile contractor, my customers always want me to install a few corner tile shelves (typically 3-4) on their tub/shower walls. Before using the GoShelf system it would take me at least 10-15 minutes per shelf, cutting the tiles to fit perfect around each one. The GoShelf system makes this much easier. Now I tile all the walls completely and grout (FYI – it's so nice to grout without the shelves in your way!) and then I install the shelves last using the GoShelf system. No need to cut the tiles perfectly around the tiles because the shelf just slides right into place. It's absolutely amazing how much faster it is to do it this way!" – Steve K., Tile Contractor
Are you ready to save time on your next corner tile shelf installation? Order the GoShelf today!