Bathroom Corner Shower Shelf Options: GoShelf System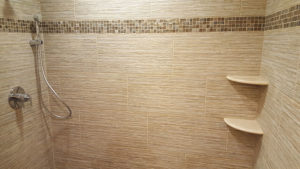 Many homeowners face a lack of ample storage space in the shower. While various products on the market claim to remedy this issue, most do not offer an ideal solution. Metal shower caddies are bound to accumulate rust, and suction shower baskets tend to be flimsy and unreliable. If you are frustrated by these inferior options, a GoShelf bathroom corner shower shelf is the perfect fix you've been searching for! Keep reading to learn more about this incredible system.
Bathroom Corner Shower Shelf Options: GoShelf System
When compared to other in-shower storage options, the GoShelf system is a clear winner. Here are a few noteworthy advantages offered by this bathroom corner shower shelf:
Simple to install – Using a clever method that does not damage the surrounding tiles, the GoShelf can be mounted on an already tiled shower wall in just four steps.
DIY friendly – This shelving solution delivers all the amazing benefits of a recessed shower niche, without any of the hassle or advanced renovation work required to put in a niche.
Customizable – The GoShelf is designed to "float" along the grout line in any corner of the shower. Add a single shelf, or create a stacked shelving cubby to suit your unique storage needs.
Dependable – Made of durable ceramic, the GoShelf is a breeze to maintain. It won't rust, and it won't budge – guaranteed. Believe it or not, it's capable of holding up to 200 pounds!
Organize Your Shower with a Stylish Bathroom Corner Shower Shelf
Aside from all of the phenomenal features listed above, GoShelf is also the most seamless & aesthetically pleasing choice to meet your shower storage needs. Countless customers are amazed by how professional and personalized the stone shelves look in their showers. For instance, take a look at this testimonial from a DIYer:
"I love doing projects in my home. I have a niche in my shower, but needed more storage space. Impossible with what is on the market that would look good, then I found GoShelf. Easy installation, color matches my tile and it looks like it's floating. Try this system – you will be glad you did. Beautiful."

-Colette T.
Ready to explore the wide array of shelf styles available from GoShelf? Click over to our website to browse our selection and find the shelf that will best complement and complete your shower!