Need a Soap Dish for Shower? GoShelf to the Rescue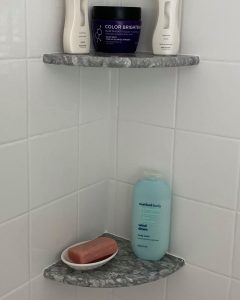 "Where do I put my bar of soap in the shower when I'm not using it?" This may seem like an issue that's not deserving of much thought or attention. But, if you don't have a functional soap dish for shower or another spot to store your soap and other necessities, it can easily become an everyday annoyance. Let's see how a GoShelf ceramic corner shelf can solve this common complaint in virtually any shower!
Need a Soap Dish for Shower? GoShelf to the Rescue
If you're tired of showering without a good place to set your soap, shampoo, conditioner and other products, then you're a great candidate for a GoShelf. This mindfully designed stone corner shelf can enhance showers of all sizes, with no need to remove any tile from the walls. In turn, it's a quick and straightforward addition you can even do yourself.
Here's the basic process:
Decide where you'd like your GoShelf to "float." This can be in any corner, at any horizontal grout line – just be sure to plan the layout ahead of time if you'd like to add more than one shelf.
Follow the easy four-step process detailed on our website to install the wall anchoring plates and glue your GoShelf into place.
Allow a few hours for the glue to finish drying before placing anything on your GoShelf. After you've waited 1-3 hours, you can start using it as a soap dish for shower (or whatever else you need) right away!
Putting in a GoShelf requires minimal time and effort, but you'll enjoy the benefits for many years to come. Unlike metal soap holders, it won't rust; and unlike stick-on caddies, it'll never slide around. Plus, you'll find that it's super easy to keep clean!
Check Out Our Beautiful Shelf Selection
Excited by the idea of having a customized, professional-grade storage system in your very own shower? Head over to our website to browse shelf styles, order samples and get on your way to optimizing your shower with GoShelf! If you have any questions, don't hesitate to get in touch with our shower storage specialists.