Tile Soap Dish: Corner Installation Is Easy to DIY: GoShelf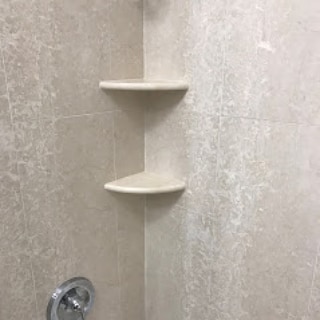 Are you in search of the most seamless and reliable solution to increase your shower storage space? Whether you're looking to add a single tile soap dish corner shelf, or an entire system of multipurpose shelving, GoShelf is the ideal product for the job! Today, we'll highlight what makes these ceramic shower shelves so versatile and ingenious.
Tile Soap Dish: Corner Installation Is Easy to DIY: GoShelf
Among homeowners, it's incredibly common to desire more storage in an already tiled shower. Yet, there was no easy way to fulfill this wish without removing tile and risking damage to one's finished shower walls – at least until GoShelf was invented!
Since these revolutionary floating shelves get mounted with anchoring plates that go into the grout, there's no need to hassle with taking off tile. Start to finish, this method involves minimal mess and absolutely no damage to your shower walls. Following our detailed instructions and video tutorial, just about any DIY home improvement enthusiast can put up a GoShelf in just a few hours!
A Five-Star Review for the GoShelf System
After using GoShelf to create a shower storage configuration that meets his unique needs, Mark B. was kind enough to leave us this glowing review:
"Wow, what a brilliant idea! I was looking for a way to install two shelves in my marble renovated bathroom that I forgot to do when I was renovating it several years ago… Wow, are those shelves sturdy!! No one would ever think that the shelves were added after the fact! I am very impressed with everything involved with GoShelf and their videos. Just remember, measure twice (I usually do that 3-4 times to make sure) before cutting and go slow and carefully, and you will end up with a beautiful completion."
Get Started: Choose Your Favorite GoShelf Variety Today!
To start browsing and find your ultimate beautiful & reliable bathroom storage solution, click over to our website now. With over a dozen GoShelf styles to choose from, you should have no problem finding a ceramic tile soap dish corner shelf that looks custom-made for your shower!