Tile Shower Soap Dish Shelf Blends with Your Shower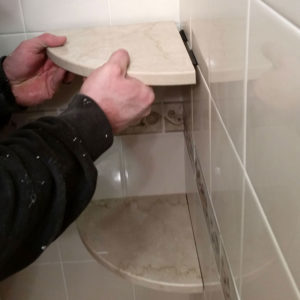 Not having a place to store your bar of soap while showering can be pretty frustrating. Do you leave it on the side of your tub? Put it on the shower floor?
Leaving your soap bar on the side of your tub or on the shower floor could lead to serious injuries if someone slips and falls. You may be thinking about going with a standard soap dish, but what if there's nowhere on your bath to place it?

GoShelf is the Perfect Way to Store Your Soap
With GoShelf's tile shower soap dish shelf, you can easily install a sturdy shelf in your shower or bath's corner. This will save you plenty of space if you have a small bathroom. You can also install another soap dish shelf near your sink for a stylish look and will free up space around your sink. Another perk of using GoShelf's soap dish shelf is it could help make your soap bar last longer since it will be kept away from direct moisture.

Multiple Styles to Choose From
GoShelf offers a variety of styles so you can effortlessly match your soap dish shelf to your bathroom tile and is a great option if your bathroom tile is one pattern. Whether you want something with a luxurious feel or something more modern, we're sure you'll find a style that meets your needs. Browse our products to see which look goes with your bathroom or visit our gallery to get some inspiration.

Installing Your Tile Shower Soap Dish Shelf
Installing your GoShelf is so easy and can be done in less than a day!
Our handy GoShelf System provides you with strong glue to mount your shelf, four anchor plates, your chosen GoShelf, [list all other items here]. There's no need to remove existing tiles or make large cuts into your tile. GoShelf preserves your cement board, waterproofing, and the look of your walls. You don't have to be experienced in DIYshevling or a contractor to install, we offer helpful step-by-step directions and a video tutorial to guide you every step of the way.
Get started installing your tile shower soap dish today! With so many styles to choose from, and every shelf's ability to hold up to 100 pounds, it's no wonder there are countless reviews from satisfied customers who've purchased a GoShelf for their bathroom. We are here to answer any questions you may have before you get started, contact us today about your project.