Best Small Marble Shelf for Showers: The GoShelf System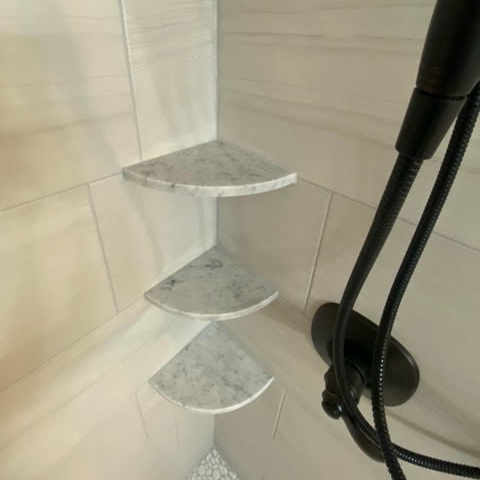 Marble offers an alluring, modern look for surfaces throughout the home. Being that this stone is both simply stunning and simple to maintain, it's no wonder it's an especially popular pick for shower shelves. If you're seeking a small marble shelf that will add extra storage space and stylish flair to your bathroom, GoShelf has got you covered! Today, we'll tell you more about how our revolutionary stone shower shelving system works and spotlight our selection of marble styles.
Best Small Marble Shelf for Showers: The GoShelf System
Even if you only have space for a single small marble shelf, a GoShelf can make a big impact in your shower! As sturdy as they are aesthetically appealing, these floating corner shelves go up in minutes and last for years. For evidence of just how easy the DIY installation process is, check out this review from Mark, who recently revamped his shower by adding three of our Carrara White shelves:
"These shelves really top off a complete remodel. Incredibly quality, great install videos and it only took an hour to install with no help! Couldn't get any better and the look is… well, incredible!"
Install a standalone GoShelf or, like Mark, create a stacked shelving system to keep all your bath & body products orderly and within close reach! Either way, it's easy to find your perfect GoShelf style since we offer over a dozen varieties to pick from. If you adore the marvelous look of marble, then these four GoShelf styles were made just for you…
Botticino, a regal tan with milky white veining
Cappuccino, a subtle beige with eye-catching white veins
Carrara White, a soft white marble with streaks of ash gray and pink accents
Poly Grey Marble, a striking blend of cosmic grays and whites
Before making your decision, be sure to browse our whole selection to make sure you've found your best match! If you'd like, you can even order samples in the mail to be extra certain.
Get Started with GoShelf Today
If a gorgeous, efficient shower system has been on your wishlist, look no further than GoShelf! We're proud to offer the easiest way to add reliable shower shelves yourself, without damaging the tile. To view a detailed installation guide and order your custom GoShelf system, click over to our website. We'll be here if you need any help or advice – feel free to reach out anytime!