Easy Shower Insert Installation: The GoShelf System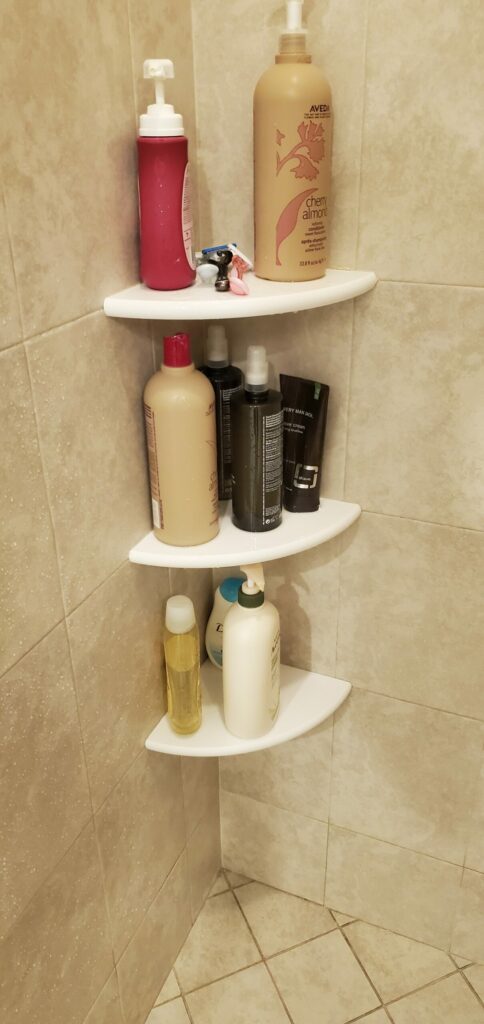 Built-in shower shelves provide the ultimate storage solution – they're permanent, streamlined and sturdy, all at once. However, some homeowners hesitate to install shower shelving for fear that it will damage their wall tile. If this is you, then you'll be thrilled to hear about our easy shower insert installation method that's fully compatible with already tiled showers. Allow us to introduce the GoShelf system and its many perks…
Easy Shower Insert Installation: The GoShelf System
To show you why DIY home improvement enthusiasts love GoShelf, here are a few fast facts about these corner shower shelves:
They're seriously reliable; in fact, they're proven to hold 200 pounds or even more!
They have no visible means of support, making for a sleek, finished look
They come in 14 beautiful styles & 3 sizes to complement any shower and bathroom
They're made of waterproof stone, meaning they're built to last and easy to keep spotless with minimal care
They're simple to install yourself in just a few hours, using the tools included in the kit
Want more in-depth insight into how easy shower insert installation is with GoShelf? Here's a testimonial from Luis. T., a seasoned tile pro who swears by this solution:
"I'm a tile contractor out of Delaware, and every once in a while, I get a call from a customer that would like to add shelves to an existing tiled wall. Now, if you have ever done this before, you know that it's not an easy task.

The GoShelf system really takes the headaches out of this type of project. You simply remove a small amount of grout, add the mounting plates, install the shelf and then grout/caulk it in. It's that simple! I would never think of doing this type of project again without the GoShelf system!"
Once You GoShelf, You'll Never Go Back
Ready to experience the magic (aka flawless engineering) of GoShelf for yourself? Head over to our website to start browsing and order samples of your top three favorite varieties! Or, if you're confident that you've found your ideal match, you can go ahead and order your kit directly from our website.
Check out our blog on shower shelving options to get some inspiration for your own GoShelf configuration, and feel free to contact us with any questions!