Free Standing Corner Shower Shelf: Easy Installation with GoShelf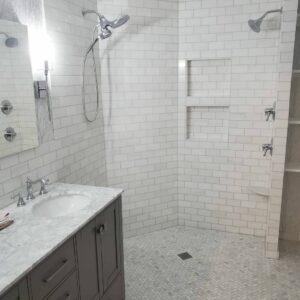 Bathrooms come in all shapes, sizes and layouts – but one thing they all have in common is a need for usable storage. Unfortunately, many shower storage "solutions" do little more than get in the way and cause frustration. A free standing corner shower shelf, however, will help keep toiletries in order, without detracting from your shower's beautiful appearance. The GoShelf system in particular provides outstandingly professional looking and functional shower storage. Let's explore how this revolutionary product can be easily installed to enhance any shower.
Free Standing Corner Shower Shelf: Easy Installation with GoShelf
If you desire permanent, reliable and finished looking shower shelving, GoShelf is the product you've been searching for! Install a single shelf, or create an entire system by adding multiple stone shelves at varying heights, in any corner.
For each GoShelf, simply follow this DIY-friendly process:
After determining where you'd like your GoShelf to float, measure/mark the four spots where you'll remove the grout
Create holes for the wall anchoring plates using an oscillating power tool, or the handheld grout saw that comes with the kit
Once you've made the holes deep enough that the plates go about halfway into the wall, begin adding adhesive and sliding them in, one at a time
Finally, add glue to the GoShelf channel, line it up with the anchoring plates and slide it into place
Give your shelf 3-4 hours to set, and then you can begin using it to display all your body & hair care essentials!
Praise for the GoShelf from Tile Contractor Jake S.
For a bit more insight into what makes GoShelf the premier free standing corner shower shelf, check out this rave review:
"When I tiled my bathroom, I thought the wall niche would be enough space for everything. I was wrong. So, I came across these guys and I can honestly say these are AWESOME! They are simple, strong, look great and shipped in 3 days. The whole process took 4 hours! I've always installed shelves during the tile process and can tell you that these are the way to go!"
Modernize Your Shower Storage with GoShelf
Eager to acquire a shower storage solution that's approved & used by the pros, but easy enough to install yourself with just a few basic tools? Order your favorite GoShelf style online today! You can find full installation instructions and a video tutorial on our website, along with our contact information in case you have any questions.