Bathroom Shower Caddy Corner Solutions: GoShelf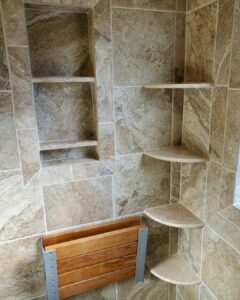 In the face of frustrations over a shortage of shower storage, a common first instinct is to purchase a hanging shower caddy that either suctions to the wall or goes over the shower head. However, use of these products typically ends in disappointment, as they tend to rust or slide around. Luckily, there's a far superior solution: building bathroom shower caddy corner shelving with GoShelf. Keep reading to learn how you can install sturdy, finished looking storage shelves in your bathroom using the GoShelf kit – in only a few hours!
Bathroom Shower Caddy Corner Solutions: GoShelf
With the GoShelf system, how you configure your bathroom storage is totally up to you. Whether you're supplementing a shower niche or revamping a bare-bones powder room, you can add as many shelves as you desire, in any corner and at any tile grout line.
To create your perfect GoShelf layout, just follow this simple method:
Settle on where you'd like your shelving to go & decide how many floating shelves you'll need
Pick your favorite GoShelf style from our selection of 17 varieties (you can request samples on our website if you're stuck between a few)
Install your bathroom shower caddy corner system using our detailed, easy-to-follow instructions!
Using the materials included in your GoShelf kit, it should only take a few hours to complete this DIY bathroom improvement project. Here's what our customer Chester had to say about his experience installing a Cappuccino GoShelf system to accentuate his shower niche:
"Hello, GoShelf! I have finished installing all four shelves. They really complement the existing wall shelves. Color is perfect. Your videos helped me to do a great job. Your product is wonderful. Thank you!"
Eager to Level-Up Your Bathroom Storage? Go Browse GoShelf Options!
Thrilled by the idea of having stunning, reliable bathroom shelving that won't fall down? It's time to go select and order your favorite GoShelf variety on our website! For questions or assistance choosing the best style for your unique bathroom design, feel free to reach out to us anytime.