DIY Shower Caddy Ideas – Consider GoShelf!
Are you looking for reliable supplemental storage space for around your shower or bathtub? Perhaps you've tried one of the caddies which suction to the wall or hang from the showerhead, only to be left frustrated by the shelf sliding around or making a rusty mess. If you're now eager to try a REAL solution, GoShelf is the go-to choice. Let's have a look at some of the many DIY shower caddy ideas you can bring to life with this system.
DIY Shower Caddy Ideas – Consider GoShelf!
When seeking a shower caddy that meets all your personal toiletry storage needs and holds up well over time, there's no reason you shouldn't be able to have it all. To meet these goals, here are a few different GoShelf configurations to consider: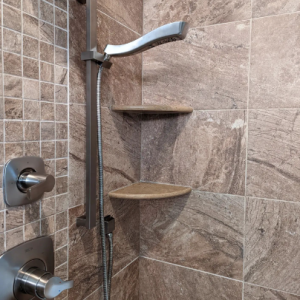 This double GoShelf in a complementary color provides space to keep everyone's shower must-haves organized and separated. It's also perfect for accommodating a large collection of bath and body products.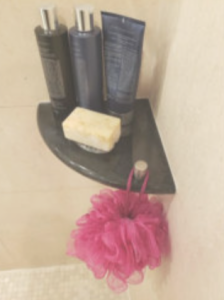 Enhanced by a soap dish and our loofah holder add-on, this simple single shelf makes a statement in a darker color than the wall tile. It has just enough space to hold all the daily essentials in a smaller shower.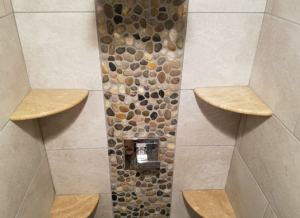 This symmetrical, two-tiered GoShelf system makes the center stone wall pop and offers extra room for family and guest toiletries. The lower shelves come in handy for safer, easier leg shaving.
If you love these DIY shower caddy ideas, it's easy to do something similar that's tailored to your own shower's layout and design. To learn more, check out the detailed do-it-yourself shelf installation instructions on our website.
Invest in a Shelf That Lasts and Lasts
If you've been on the hunt for shower shelving that won't let you down, GoShelf is the answer you've been waiting for. Installable in just a few hours start to finish, these shelves are designed to deliver years of beauty, performance and a finished look. Don't settle for self-adhesive shelves that look cheap and only work temporarily before slipping around – check out our selection and pick your favorite GoShelf to elevate your shower!