How to Make a Corner Shelf Out of Tile: with GoShelf!
Having limited space where you get ready in the morning is tough, especially in your bathroom. Perhaps you're adjusting to a smaller living space and you're having trouble finding a spot for each item. Where do you put your favorite shampoo? Body wash, or razor? Thankfully you can get organized with GoShelf. In this article, we will show how to make a corner shelf out of tile that you'll absolutely love!
Corner Shelves by GoShelf are a Space Saver and a Life Saver
Our stylish, seamless tile shelves fit snugly into the corner of your bath or shower and the best part is anyone can easily install them. With 12 beautiful stone styles and three different sizes, we're sure you'll find a shelf that will fit perfectly in your bathroom.

Learn how to make a corner shelf out of tile for your bathroom
Our GoShelf system is a handy package that provides you with all the essentials to get started on your DIY project. Follow this step-by-step guide so you know exactly how to install your corner tile shelf.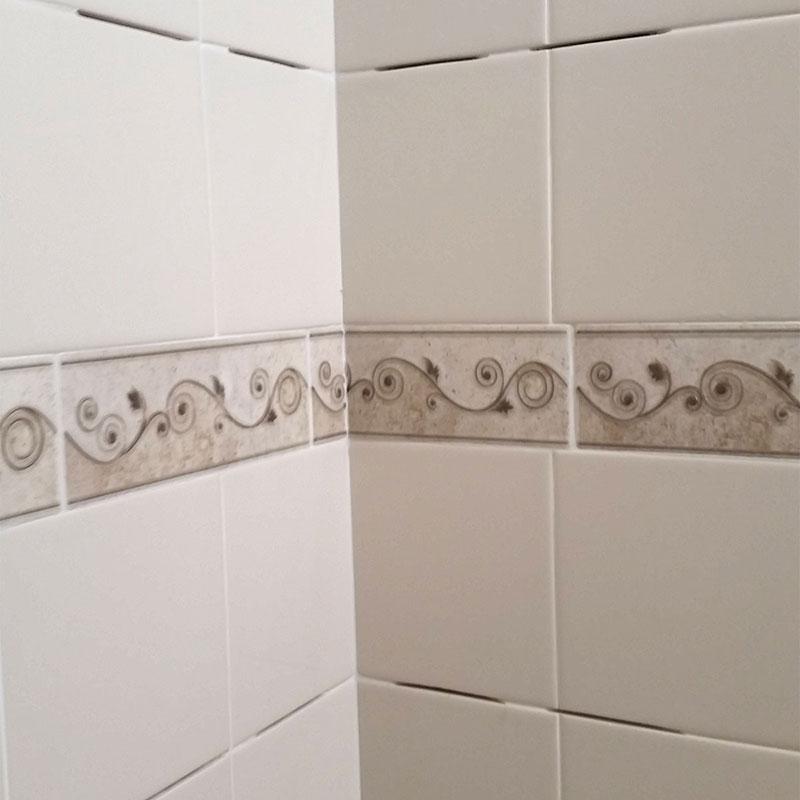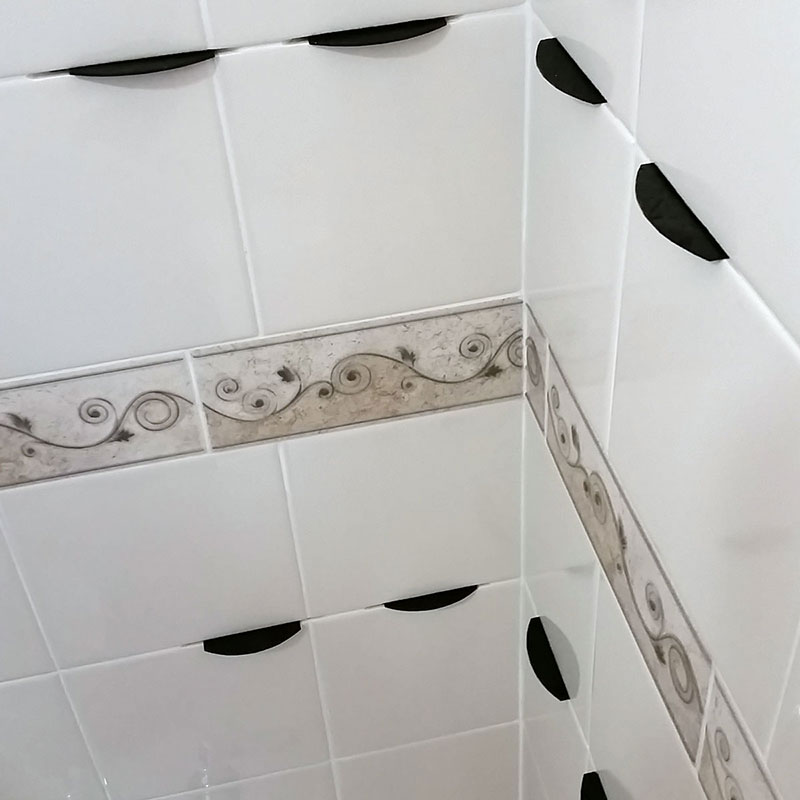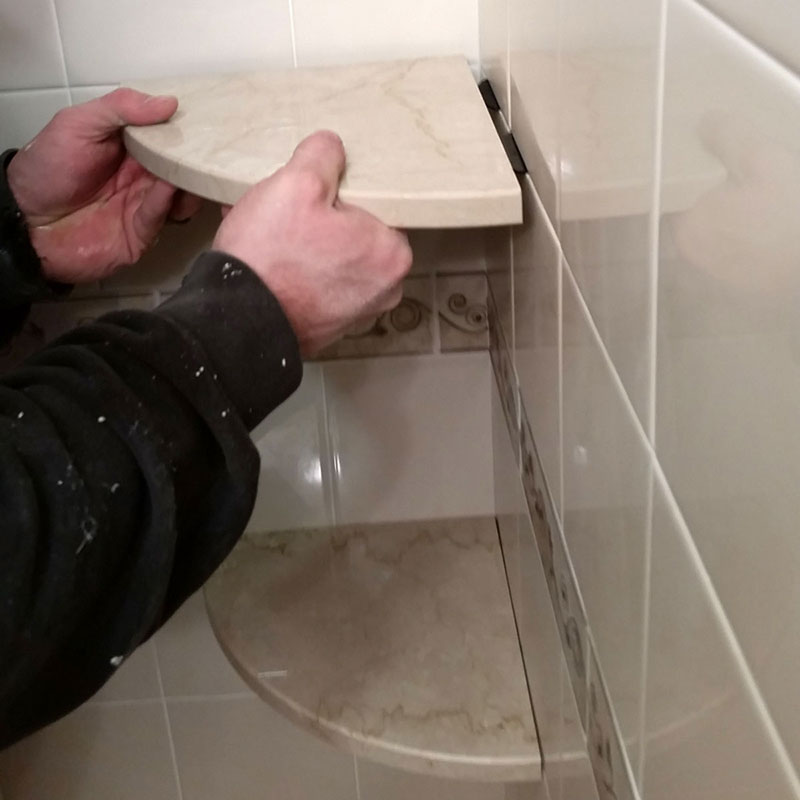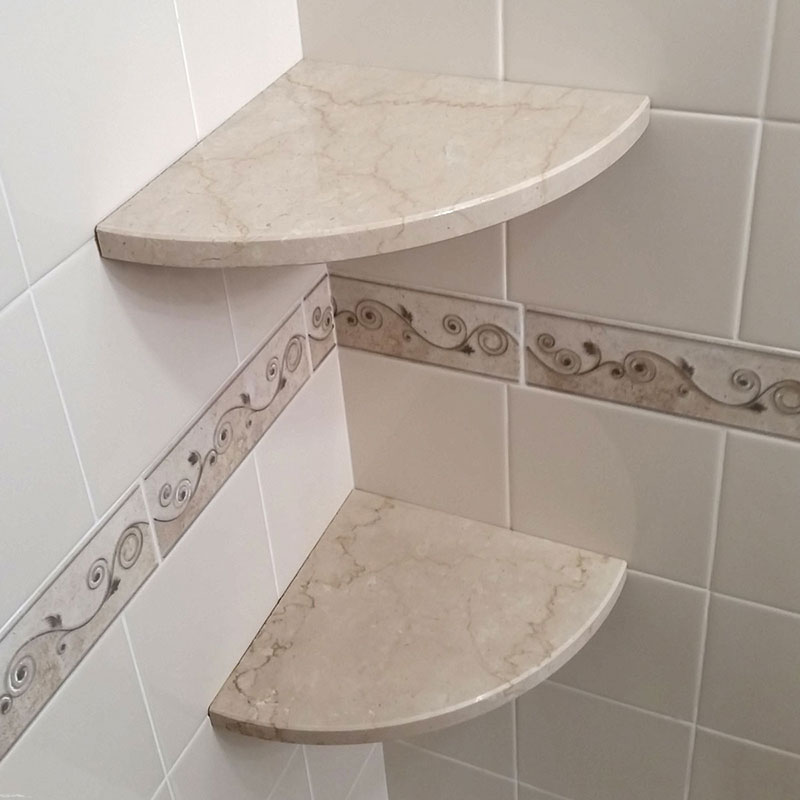 Step One: Record and Mark Measurements
Decide which corner you'd like to use and then measure 2 ½" and 6 ½" on the right and left side using a tape measure. Make sure to mark them with a pencil. There should 4 marks. Also, make sure to mark 8 ¾" from the inside corner out to mark the outside edge of the shelf.
Step Two: Remove Grout
For this step, you'll need an oscillating power tool with a 1/16" grout removal blade or a handheld grout saw. Remove grout slowly, approximately 3" wide and 1⁄2" deep. It's important that your anchor plates go halfway into the wall, so if you need to remove more grout to achieve that then do so.
Step Three: Secure your Anchor Plates and Corner Shelf
Place anchor plates in a bowl of water and make sure they're completely wet. Then use a wet sponge to dampen the four channels you made in the wall and the shelf channel. Glue both sides of the anchor plate and secure them to the wall. Make sure to glue each anchor plate one at a time. Now glue your GoShelf on each side and simply slide the shelf into place. Please wait 2-3 hours for the glue to completely dry.
Step Four: Remove Excess Glue and Install Matching Grout
Using a single blade razor, carefully remove that expanded onto the tiles. Install matching grout or caulking to seamlessly match the shelf with the wall. Clean the area and now you're done! You have a gorgeous stone shelf that is ready to be used.
And that's it! Quick, simple, easy and effective. With GoShelf you can have your very own corner tile shelf that is both stylish and efficient.