Best Travertine Corner Shower Shelf: The GoShelf System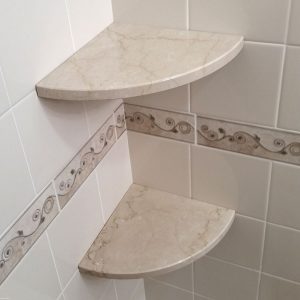 Fed up with having no good place to store your bath and body products in your shower? In a matter of just a couple hours, you can go from a shelfless shower to one equipped with a beautiful, sturdy GoShelf travertine corner shower shelf. This tan/cream colored stone is one of our most popular shelf varieties, as it complements many different shower designs. Let's talk more about why GoShelf is the first choice for travertine shelves you can add yourself!
Best Travertine Corner Shower Shelf: The GoShelf System
Thanks to GoShelf, there's no need to settle for a shower storage system that doesn't stay in place, damages your tile, is complicated to install or collects rust over time. Experienced tile contractor and GoShelf inventor Ian Stefenack truly thought of it all when he designed this solution for showers in need of storage:
Goes in at any horizontal grout line so there's no need to remove any tile
Takes just four simple steps and a few minutes to install yourself
Ready to use as soon as the glue dries (1-3 hours after installation)
Built to last and can support up to 200 lbs. or more
Easy to clean and won't get rusty
If you're aiming to add flair and function to your classic or contemporary shower, we offer a range of shades of eye-pleasing beige to suit showers of all sorts. GoShelf options for those seeking a travertine corner shower shelf or something similar include:
Light Travertine
Noce Travertine
Sand
Cappuccino
Botticino
…along with 10 other options, including marble & granite and spanning from gray to white to black! By coordinating your GoShelf color with the shades already in your shower, your shelf will not only work well to keep your shower products in order – it'll look like it was always there (and installed by a pro).
Enhance Your Shower with GoShelf
Eager to get started on adding a GoShelf to your bathroom? You can compare shelf styles and find a full GoShelf installation guide right on our website. Order samples or your GoShelf kit today to get your DIY shower improvement project underway!